Over the last decade or so, I've been invited to speak at conferences and business events. Typically these events are focused on entrepreneurs who want to know how to build successful businesses, increase sales and learn how to market with social media, blogs, ebooks, and so on.
More recently, over the last few years, I've been invited to events and churches to speak about being a marketplace Christian, working and business building with a greater purpose and sharing on mentoring and discipleship.
[Playlist of 14 Interviews] Justin Hosting interviews with Small Business Owners at 2017 Small Business Festival in Austin Texas.
What you see below are some of the presentations I've given.
Feel free to contact me if you have an event you would like me to consider speaking or training.
Ignite the Sparks of Passion with the Fuel of Purpose (2012)
This presentation is about bringing purpose to your business. The video is from Blissdom Conference in Nashville. See below for the slides that correspond to this video. You can also use the ebook I wrote in 2016 for finding your purpose at work here.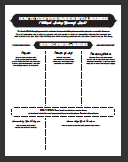 The worksheet mentioned in this video is a tool to help you discover your calculated purpose and get you on the purpose path. (Download 4 page pdf) to bring clarity to how we can center our passions on purpose and create an unstoppable business that magnetizes people and customers to us.
Session Audio MP3
Click to play mp3 file in a new window. Option-Click (Mac) or Right-click (PC) to download audio.
Ignite the Sparks of Passion Audio
A Quote from the presentation:
"Don't keep yourself a secret, that is no way to build a business. Share what your purpose is. Those that care about it will align with your purpose. Those that are not interested don't need to be in your life."
Social Media and Web For Today's Business (2012)
This presentation was for a business development seminar focused on how to use social media for business and demystifying what marketing is like today using online platforms. See below for the corresponding slides for this presentation.
The Power Of Now! Web 2.0 and Marketing 2.0 (2009)
Web 2.0 & Marketing 2.0 Presentation – The Power of Now from Justin McCullough on Vimeo.
Download the MP3 file here (27mb)
One of my earliest presentation videos from 2009 talking about social media and business.
The Power of Now – Your Business Online:
In about an hour we covered:
The shift from outbound to inbound marketing
Explained what Marketing 2.0 means
Defined Web 2.0 with a simple real world discussion on business networking
Illustrated the behavior of people via Web 2.0 websites and how you can embrace that behavior
Discussed key ideas on content, how to be engaging and how to stay away from being an online dead end.
Showed how thinking distributed leads to more traffic and engagement
How to use Facebook in general terms and ways to get fans
How to use Twitter, best practices and how to get followers
How to be engaging with your audience
How to brand your business or you within the business using social media
The (very simple) trick to identifying your business super power
Why all this matters in today's business
The Take Home:
Create quality content, make it available in multiple places and continually engage in the discussion while not being a dead end.
References from the presentation:
Treasure Hunt. Trusting God to Lead you through Divine Encounters to Connect with Strangers for His Glory.
This starts off with my personal testimony and then goes on to talk about some amazing experiences listening to God's direction with a Treasure Hunt as written by Kevin Dedmon in the book Ultimate Treasure Hunt (learn more about Treasure Hunts here)
Jump to 49 minutes where I start speaking.
See the second part of this message here:
https://www.youtube.com/watch?v=eILLeHSuJrw