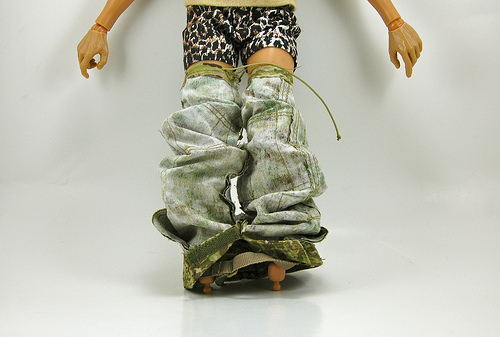 Ever had one of those "pants down" moments? I have, many times. And it leads me to my next question…
Are you Juggling Your Business or Running it?
So, Niall Doherty dropped everything and started traveling the world, destination(s) to be determined along the way with a plan to return home, oh in about 4 years. I came to know of Naill because he only owns one pair of pants right now. Remarkable huh?
How about the fact that he is a one-man business, world-traveler and clearly a leader sharing all his detailed findings along the way; updating his blog with stories, video, a 44 page manifesto, travel log including detailed monthly expenses by category with situational explanations of costs and *gasp* his revenues and sources of income.
I'm inspired by it. And here's why:
The hard stuff almost never gets done, and when it does you win – perhaps slowly or not how you expected, but you win. Doing what you feel called to do, gives you joy. Giving and leading in unexpected and valuable ways really helps others. Going into things that others typically don't is hard.
Niall is doing hard stuff. Personal sacrifice, constricted budget, keeping up communications for others to learn, still doing work as he travels, being disciplined with his activities (which is obvious in his finance reports and wardrobe) and finding time to innovate, plan, lead training seminars and get important work done is all hard stuff.
Off-hand, one might say he's not sacrificing much – he's on vacation!
Have you ever booked and boarded a bus or train – found and stayed at hotels – looked for places to eat or do laundry or exchange currency in a country you had never been to before? That's stressful, time consuming and definitely not fun, but it's necessary. In addition to all that, he has work to do, needs to connect to the web, needs to manage his money for business and living expenses. You try doing all that in addition to your normal job(s)!
The point is simply to say this man is doing real work, he's not on vacation, and he's inspiring and leading others. He's also revealing a lot about business in the process and you should be tuning in and learning, I am.
You can go to his websites at ndoherty.com and subscribe with your email and have access to his logs, financial reports and all that good stuff within about 2 minutes of landing on the site. (do it!).
But before you leave, let's talk about juggling your business versus running it since that was the whole plan with this post anyway.
Running your business is pretty much the status quo, it's what most people do. Money in, money out, calls made, emails sent and returned, work gets done (or perhaps doesn't when difficult clients or vendors are involved), and day 1 of the calendar month becomes day 30 of the month and you prepare to start again. Right?
Juggling your business is, well, sloppy and uncoordinated. Right?
I mean, juggling implies you are perhaps overwhelmed, dropping the ball, spinning too many plates, (insert other popular phrases here) and you might just be doing it wrong. Running your business is far better than juggling it. Or is it?
Watch this video of Niall real quick, it's 3 minutes, and you'll need to listen (actually listen) to him. He explains how to juggle. Just listen, it'll be relevant as you read the next bits below.
Ok, Niall's juggling skills are not impressive. But his understanding of juggling is better than yours and mine. I assume you cannot juggle by the way.
Here's the Truth About Business.
You need to juggle it. And by that I mean, stop running it and instead start learning how to juggle it.
Business, especially successful ones are driven by systems and processes.
Just like Niall described above, imagine the corners of a box, trow, trow (which I assume is Irish for throw, throw), catch catch. Throw throw, catch catch. Throw diagonally across the body to the corners of the box and catch it. But do not do it this way for four balls, that's a different system.
You see, in just a few minutes, the probability of your success in juggling just increased exponentially by knowing the system behind juggling – and it's not what you think it is as an outsider observing the juggling process. No matter how easy it looks, you'll still be spending all your time chasing dropped balls until you know the process.
Sure you might get it going after a long time or luck out a few times but you won't really be able to do it consistently. Not until you learn the system and the process. Such is the way of your business.
If you are running your business, you probably have covered all the bases but still find yourself chasing a lot of dropped balls without fleshing out your systems and processes. You probably don't have a rhythm or confidence in your actions either.
Ironically, it looks like juggling your business just may be the answer after all.
Chasing balls? Still looking for that 'trick' that feels so close yet so far away? Go ahead and start a discussion below or signup to the Dragon Slayer newsletter and we'll work that out.
One last thing. This post about only owning one pair of pants from Niall inspired me to create this post you're reading… Obviously. But his newsletter and approach to the subscribers is what inspired me to create the Dragon Slayer's Club and I'm very happy to follow what he's doing. I hope you'll check out what Niall is up to as well.