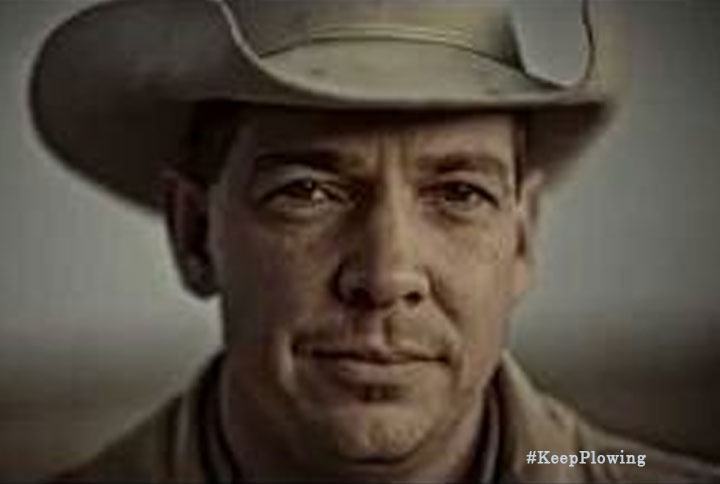 Practical Examples on How to turn the Dodge "Farmer" Super Bowl Ad into Content Marketing with a Lasting Audience.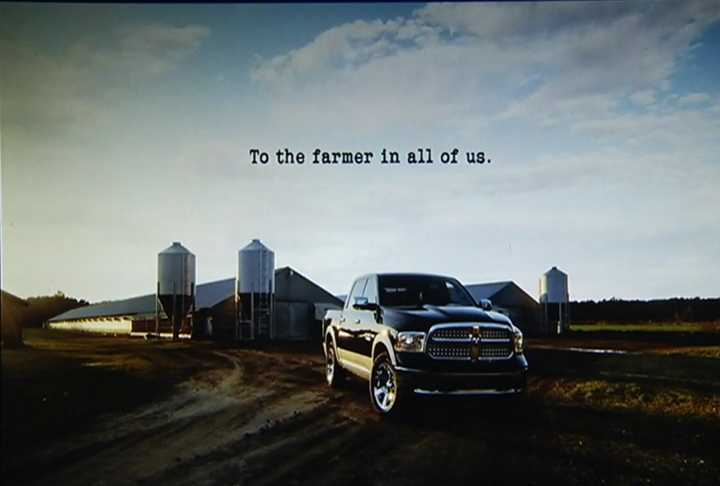 Hanging with nowhere to go.  That's what Dodge did with the Farmer Super Bowl ad.
Dodge took the biggest single exposure opportunity with 108 million live viewers and an almost great ad and failed the "sales-minded" part of its story telling and didn't tell us what to do next.
And you won't believe what they already had in place to work with!
This spot is so close to being an unexpected home run for Dodge and the ad agency – WITHOUT the huge production budgets that it begs to be a case study. It practically IS a case study.
It's tweaks away from content marketing at the highest level – but it misses the mark.
Go ahead, watch for yourself, I'll wait.
Did you notice the audio and images?
Did you see Hollywood actors, chase scenes with computer animation or the finest expose' of cinematography and lighting?
Did you see the call to action?
You could have made the 2 minute, $15-20 million dollar, spot yourself.
AND NAILED IT.
AND built an audience. AND a conversation. AND a list that converts. (I'll prove it, just follow along.)
This ad stripped out all the Hollywood magic, all the standard ad agency glitz and glamor and focused on a compelling message.  All stirred up with nowhere to go.
It literally wasted all the conversational momentum and passed on the opportunity to build an audience.
But instead, it's just a long branding ad. Why, Dodge, Why?
I'll explain it all, including some things you didn't know that will blow you mind and have you saying the same thing, for the love of God, Why?!
Great Use of Emotional Marketing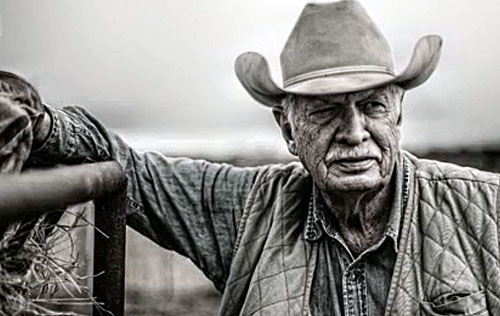 The ad has already proven itself as an emotional marketing powerhouse with a remix and plenty of people talking about it.
For all the merits explained in this mega post about how to create emotional marketing, this Dodge spot creates an emotional connection, causes a physical reaction, and becomes something worthy of discussion. It only misses the mark because it doesn't inspire action (or channel it) and direct us to the next step.
And, as you'll see in a minute, Dodge has a lot we could have done next.
If you are a content marketer you'll notice how this could have been a result of your work, not one of the best agencies in America.
The audio from Paul Harvey's 1978 speech, an authentic American message of faith, hard work and family values along with beautiful static images strengthen its ability to connect emotionally and inspire action.
In this case the lack of Hollywood magic made it stronger – more human.
More like content marketing.
So where's the beef?
Clarity on Content Marketing from Chris Brogan.
Just 2 days after the Super Bowl, Chris Brogan explained why Content Marketing is Not Branding.
"Content marketing is sales-minded storytelling", Chris said "[and content marketing] had better be helping your market make a decision of some kind." Indeed, the objective of marketing is to create a compelling action, a next step.
Chris says that content marketing includes:
Friendly story telling
A push to action (or an offer)
Direct sales efforts
An occasional off topic warm fuzzy effort
While not listed, there is an implied 5th point to provide helpful information (not necessarily story telling) that answers problems, scratches an itch, and otherwise provides value.
So, for example, because Chris is doing content marketing himself, in that informative article he literally spells out how the article is intended to convert.
"Did I charge you any money? No. Did I tell you about my product or service in the body of this post? No. What I did was start what I hope to be a relationship with you and I've invited you to get my awesome newsletter. That's me content marketing."
So, what's this got to do with Dodge?
Real Impact. Real Story. Really Missing the Mark.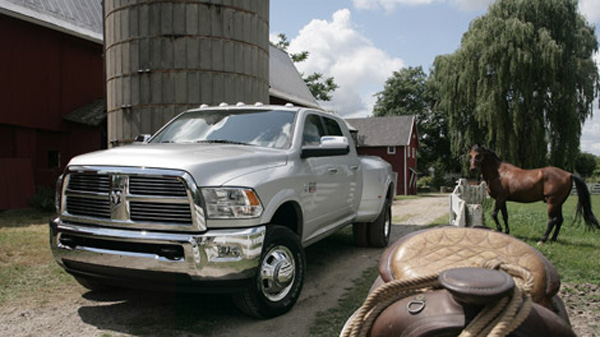 I don't know about you, but I'm no farmer. Even still, I was absolutely stirred up. The spot had my attention and a gentle nudge or invitation was expected, and I feel necessary. The ad agency and Dodge actually did a lot, but left so much to die on the vine.
Viewers are trained to know that automotive ads are just to remind us of their brand and keep it top of mind. We don't expect much of these ads. So, for the most part the viewer has only a basic emotional connection with the brand and we all understand there is nothing to really do unless you are looking for a truck right now. If so, then the ad pushes us to a Dodge dealer.
Most of us move on, flip the channel – whatever. Virtually none of us go to the dealership tomorrow.
Without direction, some of us may share the link to the video on twitter of Facebook.
However, when you make a spot supercharged with emotion, completely unexpected, and replete with a message of God, family, and farmers – you're doing more than telling us to remember the brand.
Even still, we didn't know much about what was really going on here. It was hard to talk about and all the indicators of next steps are missing. So, even as this video spreads it still dies on the vine – too much is missing.
Let me explain…
The part missing in the Dodge spot is how this content converts attention into prospects and prospects into customers. More than just leaving out a call to action and any logical next step, they leave out some amazing information and give no indication to how much has been put into this message.
For $15 – $20 Million to run the spot, there better be some part of this story that converts – right?
Get this…
Not only did their spot have no call to action, here's their YouTube description – do you see a link or any call to action there? Nope.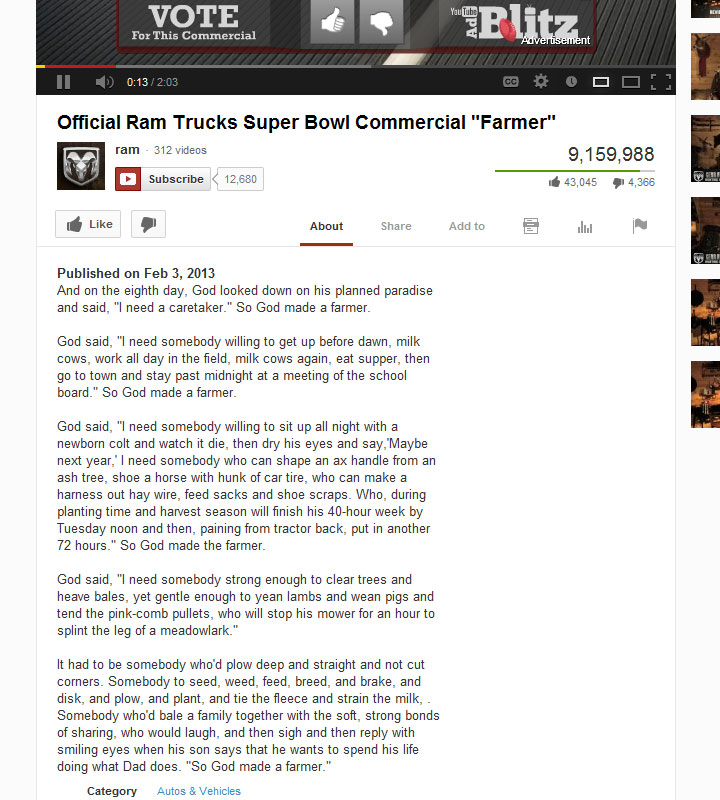 Here's what you don't know.
BECAUSE your introduction to this video is ONLY from the Super Bowl ad or from a You Tube Video on a website, like mine above, you don't know there is actually a fully developed back story.
They don't even hint at it. And this is way to much to leave open to discover. Just a gentle nudge of a next action would have been plenty.
Here's the missing back story and what Dodge didn't tell us or help us understand in the ad or the YouTube Video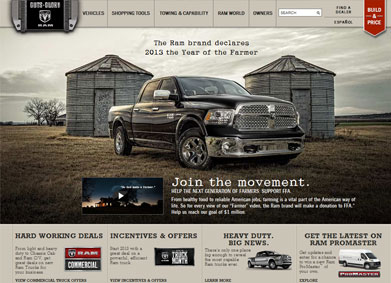 1 –Dodge is serious about this Farmer campaign and has dedicated a lot of resources to it. They put farmers front and center on the homepage for Dodge Trucks with a beautiful hero shot of their truck on a farm with this headline "The Ram brand declares 2013 the Year of the Farmer".
They are telling us this is a movement they want us to join.
But that's not all.
2- They are donating $1 million dollars to support FFA. A worthy cause.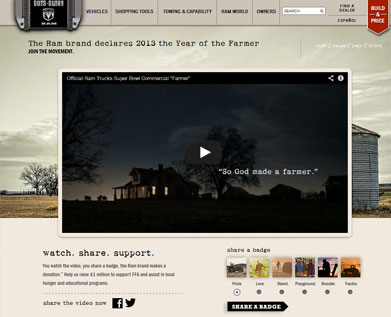 3- You also don't know they have a creative web page dedicated to this $1 million dollar program to support FFA. That includes the Farmer video plus content. Yes, content. The content (well some of it) that we are talking about.
4 – You also don't know they have some beautiful images that follow the theme of the video and Farmers message for you to share on Facebook. Here are three I really like.



5– This movement has a Twitter Hashtag, it's #KeepPlowing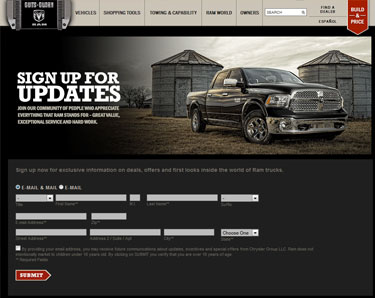 6 –They have an email newsletter to sign up too. It's hidden. You have to scroll down and click a link before actually getting to it. So, it's probably not getting signups and whatever it is getting is abysmal compared to what it would get if it were simplified and brought up to the Farmer page where it belongs.
7 – They have a You Tube account for the embedded Farmer video on their homepage.  Currently it has the text of Paul Harvey's speech and no link or call to action in the video description.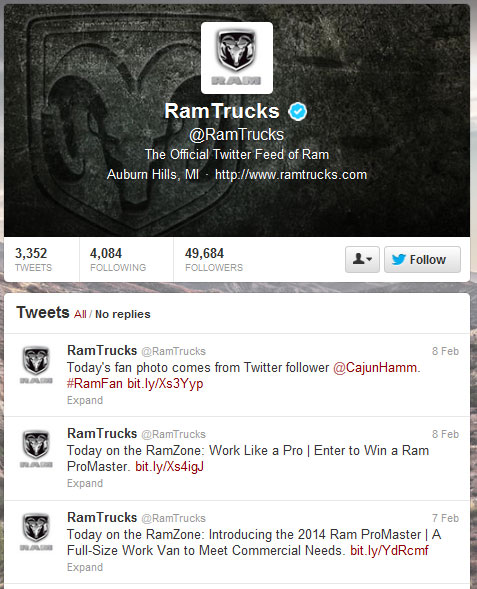 8 – They have a twitter account for Ram Trucks and it's pretty much unmanned and on autopilot. Seriously?!
With millions of dollars in just the Super Bowl ad, the powerful story of the video itself, plus all this ground work in place – why did you leave so much on the table? So much was done right!
While the website has stunning design with gorgeous photography, it's lacking all the polish of a content marketer looking for the call to action, looking for the business that needs to be done.
Let me spell it out.
How Content Marketing Woulda Done It.
1.  The digital foundation.
The eight points above show a lot of effort had already gone into the digital space. But not the stuff that actually converts. A content marketer would have had all the digital properties completely setup and ready to do business.
1.1 The Website Domain
Use a unique domain name like GrowUSwithRAM.com or GrowUSFarmers.com or RamforFarmers.com
Alternatively, if Dodge required it, the unique domain name would have redirected to the Farmer section of ramtrucks.com.
1.2 The Website
The site would be laser focused on this campaign with content, lead generation stuff, and all the things that were started at http://www.ramtrucks.com/en/keepplowing/ could have been a fine foundation. The visitor would be given a few new options including an email signup form, additional unique content and statistics on the American farmer and a way to join the movement (the Farmer Community by Dodge Ram).
1.3 The Email Newsletter
An email signup form to show support of Farmers and tie the interest into action.  This would have included just a name, email, and a simple radio button to select either "I am a Farmer" or "I am not a Farmer".  The signup would have been tied to an offer and benefit.  For example, "Every signup will result in $1 dollar given to FFA on your behalf".  Farmers would get ongoing newsletters from Dodge that keep a relevant connection to Ram and sales offers.  Non-Farmers would get ongoing newsletters about the FFA and how to connect with Ram.
1.4 The YouTube Video
The video description would have a link to the website.  The video itself would have a longer ending to include the clear call to action, hashtag, and website address to go too next for the $1 million dollar donation for FFA.
1.5 Text to Support
All digital properties would have had a unique text for cell phones to support farmers.  This would have been used to build the Dodge list of text subscribers and act as a donation / giving portal as well as an ongoing connection to this audience.  For example, future text messages might share info about extending the life of a vehicle, or preparing a vehicle for trade in and of course information about farmers and supporting the FFA with updates.
1.5 The Hashtag
The hashtag should be an extension of the unique domain name. The hashtag would be monitored and replied to when used.
1.6 The Twitter Account
Leading into the game, the twitter account would have beet tweeting too and with users about the Super Bowl and ad's that were airing.  They would have been IN CONVERSATION MODE, much like Oreo was doing.  During their spot, they would have been tweeting against their hashtag and the other tags like #SBAds etc.  The twitter profile would have had a farmer image, a link to the farmer website with a clear call to action "RAM Supports America's Farmer. $1 Million to be given to Farmers with your help, click here link to farmer page".  Ongoing tweets would have gone out during the black out to drive traffic to the spot on Youtube (where the Youtube spot had a link to the website).  https://twitter.com/ramtrucks
2.  The Dodge Community
The website would have life with real people present. An ability to start and keep discussions going based on interest.
2.1 Community Voices / Bloggers
A few credible bloggers would have been tapped to share in the content creation and discussions on the site as well as the conversations around the twitter hashtag. These people would be key insiders of the Dodge Farmer community.  These bloggers would have been partners in the audience effort to help the conversation along, join the conversation and keep it authentic for farmers, the FFA and even Dodge. I would have started with Becky McCray, Livestock owner and entrepreneur and trusted her guidance on the rural online audience.
2.2 Comments and Forums
The website would have a comments area and forums area to keep people talking and participating in the community.  This would include open Q&A and ongoing topics to discuss for both Farmers and Dodge lovers.
3. The Dodge Farmer Super Bowl Ad
The spot that ran during the game would have been modified specifically for live viewers.  As I already mentioned the changes to the YouTube version of the commercial would be for YouTube only. The live spot that ran during the Super Bowl would have been modified specifically for these viewers and include a clear call to action.
3.1 Hashtag Visible One Minute Into Spot
Because the spot is 2 minutes and very engaging, after 60 seconds, the spot would have had a twitter hashtag visible in a discrete way until the end of the spot.  People would be tweeting and talking about it real time and later.
3.2 Change Final 3 Images for Call to Action
That last 20 seconds pack a lot of power.  One of the final images includes the boy with his cowboy hat looking to the right and matches the Paul Harvey's narrative "when his son says he wants to spend his life doing what dad does… so God made a farmer."
These final images would include clear next steps. Something like this: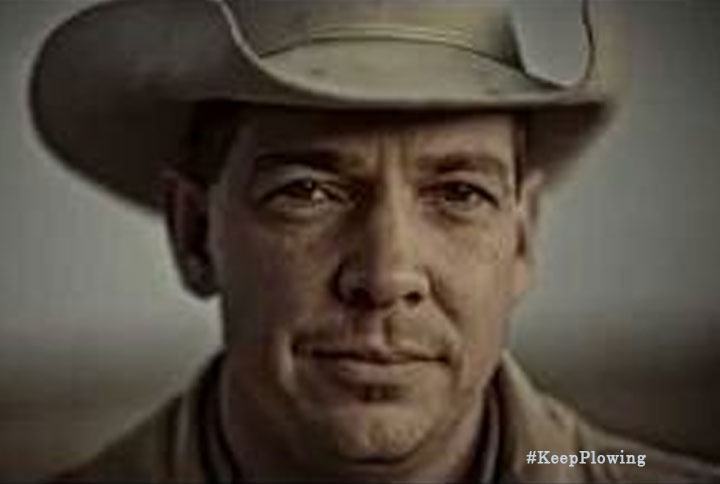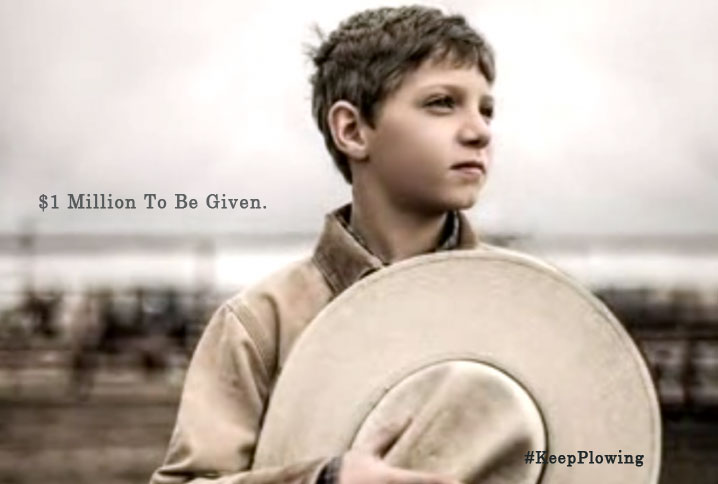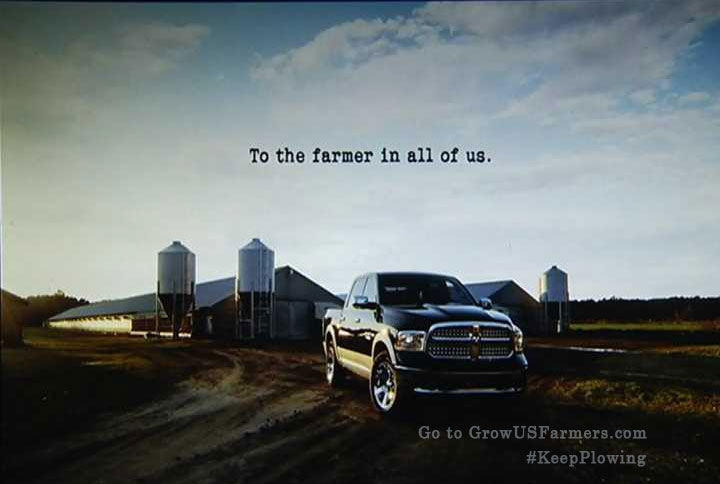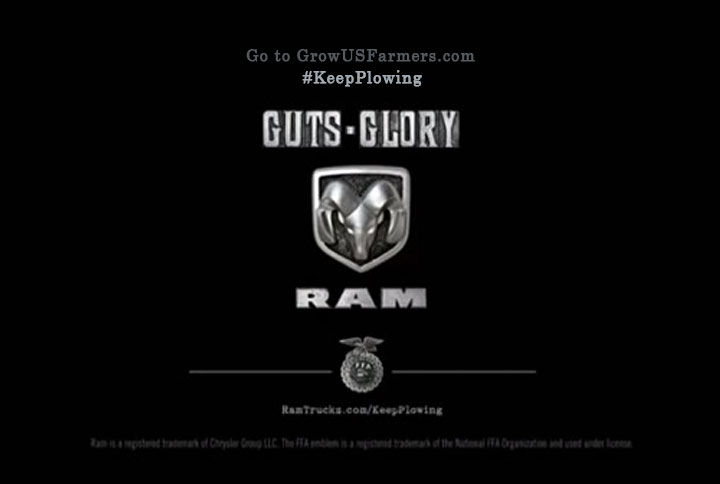 Please note the web address listed GrowUSFarmers.com is just for example purposes, added to illustrate the point about a clear next step call to action.
Most of this would add $0 additional cost. They already had the spots, the site, the social media outlets.
But the gain would have been huge.
The End Result and Additional Benefits for Dodge:
The $1 million dollar give away would have been recognized as a great show of support for FFA.
A passive call to action for discussion through the Twitter hashtag would have created a lot of tweets and discussion.
People tweeting around the hashtag and being responded too in real time creating more buzz and intimacy with the brand.
A clear call to action, to go to the website would have resulted in huge traffic, interest, and leads.
More people would have shared from the website and used the image badges and shared them on Facebook creating more visibility and interest.
The YouTube video would have included calls to action for texting, tweeting, and visiting site so the millions of viewers there would be activated too.
A community would be ready to receive the interest of the viewers for commenting and forums discussions creating even more community.
An email list would have been formed for ongoing marketing and communication allowing you to monetize the ad spend with tangible leads and advocates.
An audience would have been built around Dodge Ram Trucks and lots of discussions, mentions and inbound links would have occurred.
FFA would have gotten a lot more attention and visibility.
Dodge partners would have gotten extended value for support.
Farmers and FFA students would have loved Dodge all the more.
Instead of Oreo being the talk of the town for being responsive and relevant, Dodge would have owned the conversation through its emotional marketing with a clear call to action and a community of people ready willing and able to share in the discussion.
The original intent of Branding would have been even more effective.
A few basic items on your social media outlets and website along with a simple and clear next step would have gone a long way.
Note to All Major Brands
You should consider all the points in this post. They apply to you too.
When you are buying your visibility, pay it off and keep the conversation going.  The viewers expect you are there, ready, listening and interested in what they have to say.   The days of buying ad placement and pushing a finished spot and calling things done are gone.  You'll have to be able to continue the discussion.  When you do, you'll be winning. For now at least.
Final Note to Content Marketers
This spot is so close to being an unexpected home run for Dodge and the ad agency – WITHOUT the huge production budgets that it begs to be a case study. It practically IS a case study. And I think this is something you could have done yourself.
I wrote this article for you.  This is an example you can repeat – well, minus the ad that plays during the Super Bowl.  But everything else INCLUDING creating a video like the Dodge Farmer video, you can do.  And I hope you will.
Create emotional marketing and pay it off with clear calls to action.  Your clients will appreciate it. Remember, content marketing is all about moving you to a buying decision through sales-minded story-telling.
Over to You.
If you know someone at Dodge or The Richards Group, get this article to them. I would love to hear them weigh in on their thoughts and if they agree or disagree.
So what do you think?
Have you joined Chris Brogan's Newsletter yet?  What about mine? Signup below and go ahead and share this on Twitter or Google Plus. Leave your thoughts below.