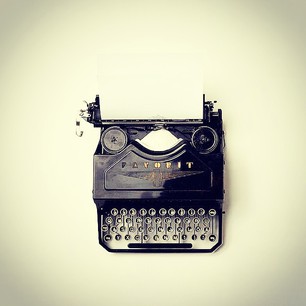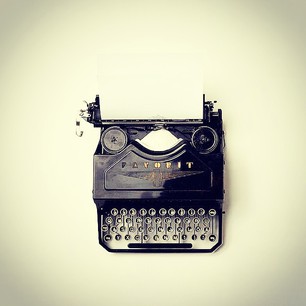 So, you're looking for a blogging template or some sort of popular writing formula to help jump start your blogging (or maybe your book?).  You've searched for "blog template" or "writing templates" and found a wall of results, but none that really inspire your writing project.  I've been there too. In fact I started blogging back in 2007 and finally considered myself "officially blogging" in 2009 but it wasn't until 2011 or so that I began to really concern myself with the art of writing.  And by 2012 I was looking for the writing templates for folks like Demian Farnworth, Seth Godin, Brian Clark, Neil Patel, Chris Brogan and Ann Handley.  I've always been fond of Copyblogger and Hubspot and they've always been great about sharing great articles on how to write for the web so you'll find several links to them here.
Consider this a treasure trove, a definitive writing guide from my Evernote files. It is my hope this gives you the writing template you were after, while also sending you on a delightful journey into the interweb of great copy writers.
This post is the accumulation of what I found and logged over a three year period.  This includes online searching as well as my own personal journey reading and learning from books about writing.
"It's none of their business that you have to learn how to write. Let them think you were born that way."

― Ernest Hemingway
Writing Guides from Neil Patel
So let's dive right into one of Neil Patel's definitive guides to content writing with these 12 tried-and-true templates. These are some of the most popular writing guides  all wrapped up in a nice post.
Click each link to read about each framework. 
 "Find a subject you care about and which you in your heart feel others should care about. It is this genuine caring, not your games with language, which will be the most compelling and seductive element in your style." ~ Kurt Vonnegut
---
Writing Advice from Demian Farnworth
Before jumping to the next set of templates, let me share Demian Farnworth's How to Write an Original Post (That Will Likely Be Copied). Here you'll see style, interesting content, unique voice, facts, storytelling, and intellectual depth.  His advice, while not a template per se is absolutely spot on:
Do/share In-Depth Research
Provide Insightful Analysis
Give Probing Commentary
Use illegitimate Ideas
Brazenly Borrow
Ask/Answer Unusual Questions
Demian leads the way in truly unique composition that is both engaging and effective. I bring your attention to Demian's post because this is where your writing can go once you've consumed these templates and guides and you've moved on to the higher levels of letting your own voice resonate above the framework of writing. And frankly, I think Demian is the best copywriter (by discipline and application) in the industry today.
In fact, Demian has provided several rich guides to writing, such as The Essential Copywriting Formulas Every Writer Should Know (and Why) Where he talks about the Four C's (Clear, Concise, Compelling), The Four P's (Promise, Paint it out, Prove it, Push for action) and the Four Us (Useful, Urgency, Unique, and Ultra-Specific). As well as the 10 Ways to Write Damn Good Copy  where he shows us the following:
Plain Copy – No frills writing, no story, no conversation, no sizzle. Just introduce the product. This is about informing the reader about a product.
Storytelling Copy – An interesting story the reader can relate too where there was a challenge that was overcome.

Opening
Conflict
Dialogue
Solution

Conversational Copy – This is standard "you and me" style writing that relates to the reader in a passionate way. It often uses the feel, felt, found sales language.
John Lennon Copy – Or said more directly, imaginative copy where you as your reader to imagine a better (fill in the blank). This taps into ideals and desires.
Long Copy – The idea here is that longer copy is better.
Killer Poet Copy – sell with style.
Direct-from-CEO Copy – Writing that is grounded and shows the CEO as approachable and human.
Frank Copy – Warts first, honest writing that is authentic, transparent, and creates trust.
Superlative Copy – This is copy with a big bold claim that often sounds like hype when done incorrectly.
Rejection Copy – Present the velvet rope and why you're not likely to be the right reader. This is counter-intuitive but can be quite engaging.
And, for more great writing insights from Demian Farnworth, read the following posts:
 "Write what disturbs you, what you fear, what you have not been willing to speak about. Be willing to be split open."

― Natalie Goldberg,
---
And now for some heavy excerpting and copy pasta for more writing guides. As I mentioned, this post is all about sharing the accumulation of writing material I've gathered.  The following represent swaths of content and their sources. Please check the links for more details and more great content by those authors.
http://www.copyblogger.com/blogging-formulas/
The How to Post
Headline: "How to …"
Introduction: Explain what the post is going to teach, and mention any prerequisites (e.g. "You'll need to be familiar with CSS" or "You'll need an electric drill.")
Main body: Go through "Step #1 …" "Step #2 …" etc, giving clear instructions for each. You may want to include a screenshot or image for each step.
Conclusion: Tell the reader what they should have accomplished by reading. You might invite them to ask for help in the comments, or point them towards further resources (like an ebook or ecourse).
The List Post
Headline: "21 Ways …" or "7 Tips …" etc
Introduction: Draw the reader in, and make the scope of the list clear.
Main body: Number each item, and ensure that each offers real value to the reader. Don't pad out the list -– if you've only got 5 or 6 items, that's fine.
Conclusion: Ask the reader to add to the list (or to mention their favorite tip) in the comments.
The Review Post
Headline: "Review: [Product Name]" or "[Product Name] Review"
Introduction: Explain the product briefly, making clear what it is/does.
Main body: Consider splitting this into separate sections. It's up to you what you use, but "Contents" "What I Liked" and "What I Didn't Like" could be a good basic structure.
Conclusion: Sum up –- should the reader buy this item? Who's it best for? Make sure you include a link.
http://www.copyblogger.com/7-reasons-why-list-posts-will-always-work/
---
From Author, Joe Vitale and his book "Hypnotic Writing"
And a resource: http://www.ebiz-ebooks-togo.com/myweb2/HypnoticWritingTheCourse.pdf
Hypnotic Writing Checklist
My paraphrase  (in order to turn it into a guide).
Attention grabbing open
Setup a challenge to resolve
Answer objections and fears
Give proof and believable promises
Give reasons to agree
Give call to action
— Over arching laws
Engagement – keep attention, interest, progress
Choice – Give more than one option for next steps to create feeling of control
Ego – Be aware of the readers ego and stroke it
Reward – Give bonuses and wow experiences
Curiosity – Open their mind with an interesting itch, say your piece then scratch the itch with the answer
Vitale's Hypnotic Formula
Stopper – Get appropriate attention
Reel in – Use Promise, benefits, curiosity, pain, or pleasure
Build Desire – Through emotion, tell a story
Give Reasons – Use logic, explain and develop
Dialogue – Address objections (mind reading)
Proof – Facts, Statistics, testimonials
Guarantee – Risk reversal
Action – Give next step and Why do it now?
Reminder/ Close – PS, pain, pleasure, gifts
"Ideas are like rabbits. You get a couple and learn how to handle them, and pretty soon you have a dozen."

― John Steinbeck
---
 5-Step Formula for Effective Online Content
http://www.copyblogger.com/content-marketing-formula/
Like any formula, this one can be stated simply. Actually executing it is going to be more complicated. But if you use this framework, you'll avoid the pitfalls that bring down most content marketing.
The formula: Effective Content = Education + Personality
Effective content teaches your audience something they want to know more about.
both educate and entertain.
If you're going to put the work in to create strong content that educates in a reader-friendly way, please don't bury it with a lousy headline.Great headlines make it easy for readers to share your content. They attract more links, more social media sharing, more readers, and more customers.
All of the "rules" of great content marketing come from one rule: put your audience first. It's about them — the readers, prospects, and customers — not you.
Effective content educates
Effective content has personality
Effective content has a great headline
Effective content keeps SEO in mind
Effective content puts the reader first
---
Persuasion Formula
Hugh Rank – "The Pitch" Book (as paraphrased by Joe Vitale)
Get Attention
Build Confidence
Stimulate Desire
Create Urgency
Ask for Response
Aristotle
Exordium – (problem) A shocking statement or story to get attention
 Narratio – (promise) You pose the problem the reader / listener is having
Confirmatio – (proof) You offer solution to the problem
Peroratio – (price) You state the benefits of action on the solution
(this is the basis for AIDA = Attention, Interest, Desire, Action)
Attention – get attention
Interest – generate interest
Desire – create desire
Action – ask for action
---
Ann Handley's Writing Formula
http://labs.openviewpartners.com/ann-handley-formula-for-creating-great-content/
Utility x Inspiration x Empathy = Great Writing
If you think about that equation, you can't create a quantifiable output if any of the inputs are zero. If your writing has zero inspiration, it will have zero impact. If it has zero utility or audience empathy, it will have zero impact. You have to see the world through your audience's eyes and help them in some way. In my experience, the very best writers aren't always the best pure writers. Instead, they're the people who possess incredible focus and pathological empathy.
And also this http://www.vidyard.com/blog/5-steps-to-writing-content-ann-handley/
"If you want to be a writer, you must do two things above all others: read a lot and write a lot."

― Stephen King
---
Derek Halpern
http://socialtriggers.com/power-of-curiosity/
[New, Cool, and/or Hopefully Remarkable Thing] + [Desirable Outcome] = [Curious Reader / Viewer]
To use this formula, here are five templates for inspiration:
How'd you like to learn about[new remarkable thing] that [desirable outcome]?
Ever wonder how you can earn [desirable outcome]with [new remarkable thing]?
There's a way for you to[desirable outcome] with this [new remarkable thing].
If you heard about a[new remarkable thing] that could [desirable outcome], would you be interested in learning more about it?
The key to a[desirable outcome] is to make sure you use [new remarkable thing].
http://socialtriggers.com/perfect-blog-post/
How to Write the Perfect Blog Post
From Derek Halperns infographic
Grab Attention (headline)
Opening that gets reader reading
Big Promise Statement (benefit message via subhead)
Emotional Connection with reader (keeps attention)
Soundbite (authority and actionable)
Big Promise Statement (drive benefit of reading more via subhead)
Useful Content (practical, how to, usable content)
Call to action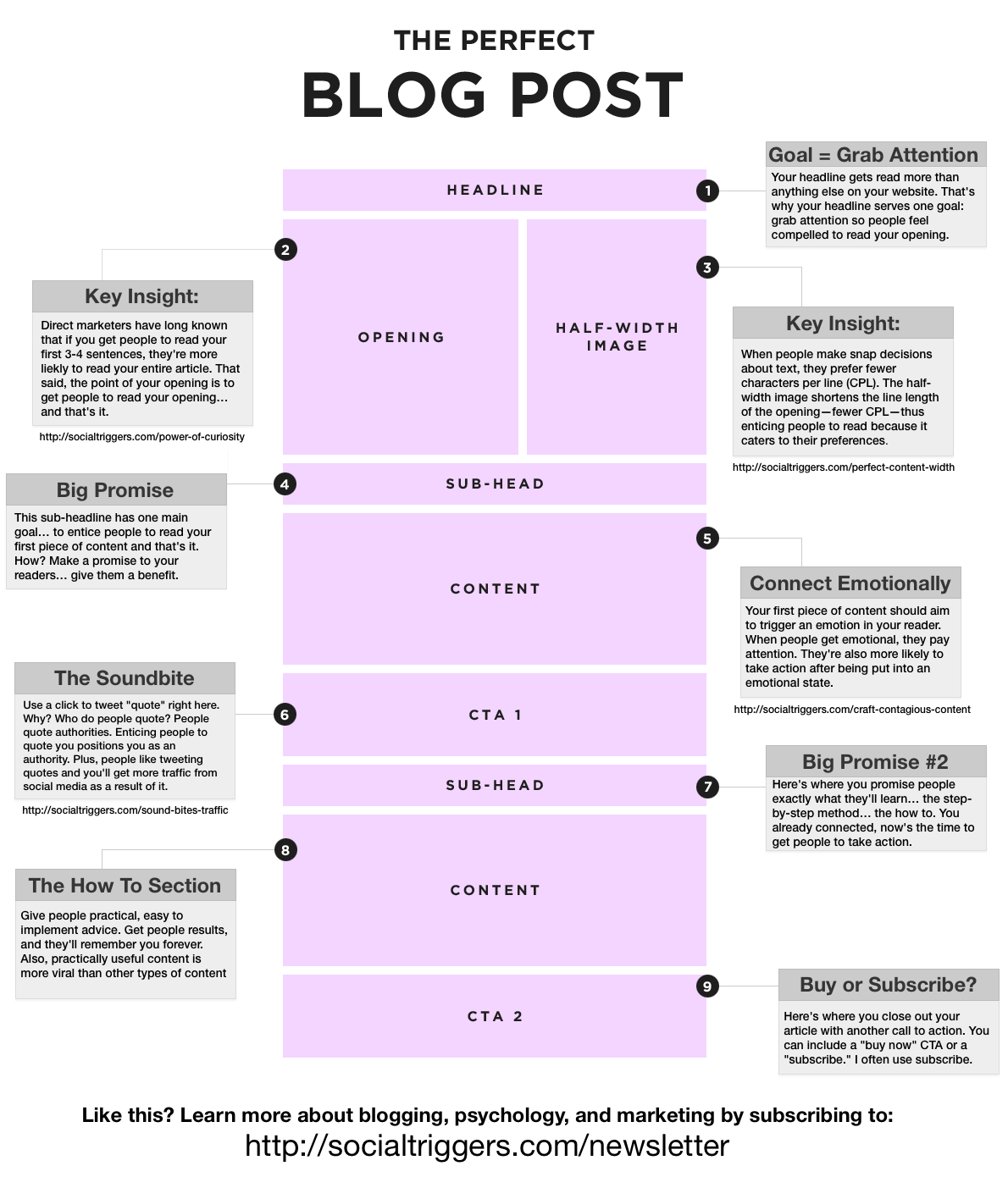 Another post that elaborates on the details of persuasive copy (follows same structure) http://www.copyblogger.com/the-structure-of-persuasive-content/
---
The Four "P" Approach:
A Persuasive Writing Structure That Works
http://www.copyblogger.com/4ps/
The 4 Ps provide more expansive elements than AIDA, which is why it's a favorite of many top copywriters, notably John Forde.
Promise – Benefit based attention grabbing heading and supporting sentence or two
Picture – Painting a vivid picture of the benefit or desire outcome with emotional ties
Proof – Support for the promise such as stats, charts, facts, quotes,stuides.
Push – Provide an outstanding and compelling offer
"I keep six honest serving-men, (They taught me all I knew);
Their names are What and Why and When, And How and Where and Who" – Rudyard Kipling
---
5 Reasons Why You Should Use the 5 W's When Writing Online Photo Captions
http://thecopybot.com/2011/04/online-captions/
Originally used as a method of Bible study in the late 1880s, journalists eventually adopted the 5 W's method to write newspaper leads.
Don't make people think.
Reward people with interesting information.
Answer obvious questions.
Approach each photo objectively.
Write clear, concise and compelling copy.
Here's what I like best about this approach: The 5 W's will force you to write short, plain but persuasive copy. You'll avoid the clever and cute, while successfully creating the concrete and convincing.
---
Five Ws and One H: The Secret to Complete News Stories
http://blog.journalistics.com/2010/five-ws-one-h/
Who was involved?
What happened?
Where did it take place?
When did it take place? 
Why did it happen?
How did it happen?
---
And now a lesson from the bible on writing.
Biblical Persuasion Model
http://www.biblica.com/niv/study-bible/philemon/
Approach and Structure To win Philemon's willing acceptance of Onesimus, Paul writes very tactfully and in a lighthearted tone, which he creates with a wordplay (see note on v. 11). The appeal (vv. 4–21) is organized in a way prescribed by ancient Greek and Roman teachers: to build rapport (vv. 4–10), to persuade the mind (vv. 11–19) and to move the emotions (vv. 20–21). The name Onesimus is not mentioned until the rapport has been built (v. 10), and the appeal itself is stated only near the end of the section to persuade the mind (v. 17).
---
THE MOTIVATING SEQUENCE
http://www.actonfs.com/newsletters/issue5/newsletter5.html
"The Motivating Sequence" is found in Chapter 5 of Robert W. Bly's 2002 book, The Complete Idiot's Guide To Direct Marketing. Bly writes, "The copy in virtually all direct marketing promotions follows a well-established formula for persuasive writing known as 'The Motivating Sequence.' The steps are as follows:
"Get attention.
"Identify the problem or need.
"Position your product as the solution or answer.
"Prove your product is the best solution or answer.
"Ask for the order."
---
http://www.contentrulesbook.com/extras/
Kodak Blog Template
http://www.contentrulesbook.com/extras-files/Content_Rules_Blog_Post_Template.pdf
Headline – Bold and Attention Grabbing
First Sentence – A hook, question, controversial statement to grab the reader
Next Paragraph – answers and followthrough on first sentence
Bullets / Lists – Key takeaway points
Ask Question – Create a next step such as leaving a comment
---
 Basic Generic Template / Liz Strauss
http://www.successful-blog.com/1/how-to-use-a-google-docs-content-template/
gdoc with full template: https://docs.google.com/document/d/1C63_MyNOscjBJHXKeZEYj7qU8qYdDJBDPG8ZcPi6QcU/edit
THE ARTICLE
Header<h1> compelling but includes the target keyphrase
Length400 – 600 words
Formattingshort paragraphs, headers, subheads, bullets and bolding
Imageat least one, should be interesting on its own, creative commons
Keyphrase usagefour to six times in the body of the article
Mentionquote or refer to someone with a social following
Linkfrom the post to a web page
Call to actionfor comments
Author boxshort bio, links to Twitter, Google+, etc.
---
Excerpted from http://www.copyblogger.com/persuasive-writing/
See the original blog post for more context and helpful information on each. These 10 strategies are used quite a bit because they work.
Repetition
Reasons Why
Consistency
Social Proof
Comparisons
Agitate and Solve
Prognosticate
Go Tribal
Address Objections
Storytelling
---
Writing lesson from MADE TO STICK, a book by Chip and Dan Heath
http://groups.haas.berkeley.edu/CTE/documents/Teaching%20That%20Sticks.pdf
Teaching That Sticks
Simple
Unexpected
Concrete
Credible
Emotional
Stories
(slightly elaborated by http://litlunchbox.com/2012/12/29/made-to-stick-now-extra-sticky/ )
Simple – Ten point PowerPoints are nine points too many.  The best, most memorable mesages are simple and profound.
Unexpected – Violate people's expectations.  Engage their curiosity.
Concrete – We're hard-wired to latch on to concrete info.  Lofty language and business-speak drift effortlessly in one ear and out the other.
Credible – Sticky ideas need to be believable, all on their own.
Emotional – Grab an emotion – fear, love, nostalgia – and an idea gains traction.
Stories – A list of facts is blah.  Add people and plot to the facts and suddenly, you've got a story to remember.
"And by the way, everything in life is writable about if you have the outgoing guts to do it, and the imagination to improvise. The worst enemy to creativity is self-doubt."

― Sylvia Plath
---
Seth Godin's 3 u's
http://cobrand.squidoo.com/ebooks/uuuEbook.pdf
There are plenty of tactics about how to get more traffic to your pages online. Dozens of blog posts and great advice, easy to find. WARNING: None of these tactics work without the three U's that are covered in this book.
The three U's? Yes, it's simple:
Useful
Updated
Unique
More from Seth Godin on Writing
http://sethgodin.typepad.com/seths_blog/2006/11/how_to_write_a_.html
An appropriate illustration,
A useful topic,
easily broadened to be useful to a large number of readers,
Simple language with no useless jargon,
Not too long,
Focusing on something that people have previously taken for granted,
That initially creates emotional resistance,
Then causes a light bulb go go off
and finally, Causes the reader to look at the world differently all day long.
http://sethgodin.typepad.com/seths_blog/2008/04/write-like-a-bl.html
     Write like a blogger
You can improve your writing (your business writing, your ad writing, your thank you notes and your essays) if you start thinking like a blogger:
Use headlines.I use them all the time now. Not just boring ones that announce your purpose (like the one on this post) but interesting or puzzling or engaging headlines. Headlines are perfect for engaging busy readers.
Realize that people have choices.With 80 million other blogs to choose from, I know you could leave at any moment (see, there goes someone now). So that makes blog writing shorter and faster and more exciting.
Drip, drip, drip. Bloggers don't have to say everything at once. We can add a new idea every day, piling on a thesis over time.
It's okay if you leave.Bloggers aren't afraid to include links or distractions in their writing, because we know you'll come back if what we had to say was interesting.
Interactivity is a great shortcut. Your readers care about someone's opinion even more than yours… their own. So reading your email or your comments or your trackbacks (your choice) makes it easy to stay relevant.
Gimmicks aren't as useful as insight.If you're going to blog successfully for months or years, sooner or later you need to actually say something. Same goes for your writing.
Don't be afraid of lists. People like lists.
Show up.Not writing is not a useful way of expressing your ideas. Waiting for perfect is a lousy strategy.
Say it.Don't hide, don't embellish.
---
http://drivingpeace.hubpages.com/hub/Article-Writing-Templates-The-Secret-All-Successful-Content-Marketers-Use
The "how-to":
Article title: Grab the reader's attention with a great title that makes it clear you're about to teach them how to do XX.
Introductory paragraph: Open with a paragraph that talks about the problem your reader has, a solution they need and how you're going to teach them to get there.
List of supplies: Provide a list of things they'll need to accomplish what you're teaching them.
Specific instructions to do XX: List of the steps to reach XX in specific order.
Summary paragraph: Brief summary of what you've covered. Include some advice about applying what they've learned, words of encouragement, product recommendations, etc.
---
http://www.problogger.net/archives/2011/12/15/your-how-to-post-will-fail-if-you-dont-use-these-techniques/
Create a compelling introduction using the PAS formula
You might think that when it comes to writing "how-to" guides that you can just jump straight into the steps. Don't kid yourself.
Even if you have the clearest and most compelling headline and all the greatest data in the world, you need to prepare your reader for what's going to come next.
But just writing a short introduction isn't enough. You have to write a compelling one. Use the PAS formula to do that.
Pain: describe a real problem that your readers can identify with.
Agitate: make that pain seem even worse by bringing up more bad news.
Solve: tell your reader there is a solution…the blog post they are about to read.
---
How To Template
http://blog.ezinearticles.com/2010/02/how-to-article-template.html
Great title
Simple introduction
List of tools or resources
Chronological steps
Create mental images
Conclude with cautions, tips, advice
---
Here is a nice curated post with Six Writer's Resource Links.
51 Writing Templates
Article roundup from ezine articles (from http://blog.ezinearticles.com/category/article-templates  )
---
You might also like these Hubspot resources
---
Journalism – Inverted pyramid
http://en.wikipedia.org/wiki/Inverted_pyramid
http://blog.journalistics.com/2010/inverted-pyramid-press-release-writing/
Most formal instruction on writing in the inverted pyramid style advises you to break the pyramid into three parts:
Part One– the opening paragraph (lead or lede), where you answer the questions who, what, why, when, where and how. This is the information that has to be in there for you to get your message across – the must have information.
Part Two– additional information that is helpful, but not necessary. This can be information that adds color or supporting information.
Part Three– the least important information. This is the 'nice to have', not the 'need to have' stuff.
---
Blogging Architecture: How to Write Timeless Blog Posts Every Time
http://www.blogtyrant.com/timeless-blog-posts/
Include a personal back story
Write with consistent and stylized paragraphs, dot points and images
Link generously and in bulk
Solve a problem or make problems known
Develop titles that get attention and hold attention
---
1. The Michael Hyatt Template
Michael Hyatt uses the SCORRE™ method from the Dynamic Communicators Workshop (DCW) to prepare every post. You can view his Evernote Template here.
Subject
Central Theme
Objective Statement
Rationale
Resources
Evaluation
2. The Copyblogger Template
Here's a general pattern found on one of my favorite sites:
Craft a killer headline(hook the potential reader with great offer)
Open with a bang(convert the browser into a reader)
Write a really good list(list posts are easily digestible and scannable)
If no list, then just deliver the promise(in a clean and easy way, using the inverted pyramid style)
Call to action / engage reader in discussion.
3. The Seth Godin Template
Seth's posts are like a rare art form. They are simple, powerful, usually short (200-300 words), variable, and hybrid.
He writes "snackable" content. It's the quality over quantity model. The content is designed to inspire fast, engage the mind fast, provide actionable information quickly, pose a new problem, and/or inspire different patterns of thinking. They typically are spoken by people with great authority already.
It's incredibly hard to template this kind of post, but here's an attempt:
Engaging, thought provoking question/share story/define new idea/call to action (highly variable)
Use simple, short sentences(write less, impact more)
Ship now (faster wins) – will force you to simplify and shorten.
4. The Jeff Goins Template
Jeff is a rising star in the blogging and writing world. His posts are engaging, inspiring, and enabling. There are several different types of posts he creates, but one I personally like is his the "Why" and "How" type posts.
Here's a rough template to create such a post:
Open with personal experience/struggle/observation.
Write a really good list. (either with numbers/bulletts/subheads)
Deliver promise made in headline (with authority/ scannability / simplicity)
Call to action / engage reader in discussion.
5. The David Santisteven Template
Trying to blog for life change? I came across David's post the other day where he shares this template from Andy Stanley's book Communicating for a Change.
This formula is Me – We – God – You – We:
Me – personally relate to subject matter.
We – connect the subject matter to the reader.
God – the main idea, in as few words as possible.
You – the call to action.
We – paint the vision, leave reader inspired.
Read David's post here for more information.
6. The Chris Brogan Template
This is roughly how Chris Brogan writes his posts (he calls it the Writing Frame):
Great Title
Related Graphic
Strong+Story First Paragraph
First Example
Second and/or Third Example
Action Items
Call to Action
---
http://www.brainpickings.org/index.php/2012/06/25/george-orwell-why-i-write/
I give all this background information because I do not think one can assess a writer's motives without knowing something of his early development. His subject matter will be determined by the age he lives in — at least this is true in tumultuous, revolutionary ages like our own — but before he ever begins to write he will have acquired an emotional attitude from which he will never completely escape.
(i) Sheer egoism. Desire to seem clever, to be talked about, to be remembered after death, to get your own back on the grown-ups who snubbed you in childhood, etc., etc.
(ii) Aesthetic enthusiasm. Perception of beauty in the external world, or, on the other hand, in words and their right arrangement. Pleasure in the impact of one sound on another, in the firmness of good prose or the rhythm of a good story. Desire to share an experience which one feels is valuable and ought not to be missed.
(iii) Historical impulse. Desire to see things as they are, to find out true facts and store them up for the use of posterity.
(iv) Political purpose. — Using the word 'political' in the widest possible sense. Desire to push the world in a certain direction, to alter other peoples' idea of the kind of society that they should strive after.
---
http://www.brainpickings.org/index.php/2012/02/07/david-ogilvy-on-writing/
On September 7th, 1982, Ogilvy sent the following internal memo to all agency employees, titled "How to Write":
The better you write, the higher you go in Ogilvy & Mather. People who think well, write well.
Woolly minded people write woolly memos, woolly letters and woolly speeches.
Good writing is not a natural gift. You have to learn to write well. Here are 10 hints:
Read the Roman-Raphaelsonbook on writing. Read it three times.
Write the way you talk. Naturally.
Use short words, short sentences and short paragraphs.
Never use jargon words likereconceptualize,demassification, attitudinally, judgmentally. They are hallmarks of a pretentious ass.
Never write more than two pages on any subject.
Check your quotations.
Never send a letter or a memo on the day you write it. Read it aloud the next morning — and then edit it.
If it is something important, get a colleague to improve it.
Before you send your letter or your memo, make sure it is crystal clear what you want the recipient to do.
If you want ACTION, don't write. Go and tell the guy what you want.
David
---
THE FOUR TYPES OF WRITING
http://www.msdanielsden.com/html/four_types_of_writing.html
NARRATIVE
Narrative writing is defined as relating a sequence of events which occurs over some period of time. Both what happens and the order in which the events occur are communicated to the reader. Effective narrative requires a writer to give a clear sequence    of events (fictional or non-fictional) and to provide elaboration for it.
EXPOSITORY
Expository writing is defined as presenting reasons, explanations, or steps in a process. Logical order should be used with appropriate sequencing of ideas or steps in a process.    Effective expository writing should contain a main idea, supporting details, and a conclusion.
PERSUASIVE
Persuasive writing is defined as presentation of reasons and examples to influence action or thought. Effective persuasive writing requires a writer to state clearly an opinion and supply reasons and specific examples that support that opinion.
DESCRIPTIVE
Descriptive writing is defined as the clear description of people, places, objects, or events using appropriate details. An effective description will contain sufficient and varied    elaboration of details to communicate a complete sense of the subject being described. Details used are usually sensory ones selected to describe vividly what the writer sees, hears, smells, touches, and tastes.
---
8 Types of writing:
Consider what type of writing is assigned, and explore what will make it effective. For example, your diary has different purpose, components and style than an essay; a research proposal different purpose, components, and style than a white paper. The better you understand the task at hand, the more successful will be your writing.
The five-paragraph essay
Getting started means getting organized.
A good place to start if you are inexperienced in writing.
Essays for a literature class
Brainstorm the question/assignment: restate the key words…
Expository essays
When writing an expository essay, follow these eight basic steps…
Persuasive essays
In persuasive or argumentative writing, we try to convince others…
Position papers
Write a position paper to organize and outline your viewpoint on an issue…
Writing for the "Web"
The topic, its main idea, and its conclusion should be immediately visible, locatable, or knowable…
Open book exams
In an open book exam you are evaluated on understanding rather than recall…
Essay Exams
Before writing out the exam, write down its key words…
Research proposals
These recommendations do not guarantee a successful research application! They are intended to help you conceptualize and prepare a research proposal…
White papers
White papers introduce your product or technology as innovative…
---
http://www.problogger.net/archives/2011/10/18/neil-patels-guide-to-writing-popular-blog-posts/
Hook your readers
I really learned a lot about hooking your reader by reading blogs by Brian Clark, Darren Rowse and Leo Babauta.
These writers use some great tricks to compell readers to stop and read every word they write, which I think is something we all want to do, right?
The first rule of hooking readers is to write a great headline. Great headlines have four qualities. They are:
Unique:Unique headlines can only be used for your blog post, like this post I'm writing right now. It's unique because there is only one Neil Patel!
Useful:A headline is useful when it promises practical information. The reason "how-to" guides are popular is because it gives answers to problems.
Ultra-specific:Adding numbers or stats to a headline makes it ultra-specific. My article, 6 Advanced Ways to Improve Your Search Rankings, is a good example of ultra-specific, since I used both a number and the word "advanced."
Urgent:The best way to create urgency is to put some kind of deadline into your headline. "6 Days until the Stock Market Crashes" or "Your Last Chance to Get a Free Copy of My Book" are good examples.
The best headlines have three or four of these features in them. This formula is called the Four Us.
---
Writing for impact rather than page views
http://www.chrisg.com/80-20-rule-content/
Writing for impact is an art rather than a science, but there are certain things that you need to do:
Write with a goal– what is the outcome you intend to create? If your writing does not have a purpose then it is difficult for you to know if you have succeeded or not. Can you guess the intention behind my previous article about cold-feet? There were a few goals with that one.
Mine the emotion– if you want to get people to think a certain way or do a certain thing then you need to move  Inspire, motivate, tell emotional stories, reveal your inner truths and vulnerabilities. Share your challenges and struggles.
WIIFM– most of human interaction has an element of "What's In It For Me?". If the reader doesn't grasp what's in it for them right away, well, then you have failed.
Consumption– I am not super strict on grammar (as you can probably tell), but I do attempt to edit. Editing for brevity is great, but also edit  to make things crystal clear and remove any road-blocks to consumption. If your audience doesn't consume your message all the way through then they won't take action on it, and they won't spread it. Make it skimmable, engaging, and easy to get through. Take a look how I formatted this article, can you understand why?
It's not what you mean, it's what they understand– Closely related to the last point. I know for a fact there will be people who read this article and will take away a message I never intended. It always happens. Sometimes people take what you say out of context intentionally. Sometimes people hallucinate whole phrases you never wrote. People will second-guess your intentions. You can't help that, but you can work on your message to get it across as well as you can. It's your responsibility to communicate with as few chances of distortions as possible.
Get agreement– If you want to persuade then you need to be on the page. Get agreement early and often. Build up to your main point with sound arguments. Don't just bludgeon people with ideas or facts. Can you see where I asked questions in this post?
---
http://www.quicksprout.com/2012/03/08/9-hard-hitting-content-strategies-for-small-business-blogging/
Is what you wrote original?
Can you provide practical advice or relevant research?
Did you correct any spelling, grammar or factual errors?
Is the topic of interest to a reader or a machine?
Is the article well edited?
Does your site have authority?
Are you providing insightful or interesting information beyond the obvious?
Would you bookmark your article?
Is your article cluttered with call-to-actions, ads or promotions?
Would a magazine or journal print your article?
Is your article short, weak and useless?
How much time and attention did you give to detail?
Would someone complain if they saw this article?
---
http://www.firepolemarketing.com/2012/05/26/how-to-sell-more/
So, the first link in the chain of marketing is attracting the interest of the right people. Here are the key points again:
Talk about their biggest problems (that you can solve).
Use the language they can relate to easily.
Create fascination to keep people interested.
Mental Hugging 101
There are countless ways to give mental hugs. Here are some of the most effective ways:
Talk about the problems your product solves.Painkiller ads quite literally talk about the pain they solve. Note that the focus is usually the pain, instead of the relief (which is the benefit.)
Showcase your product's benefits.Pretty much every detergent bottle has a picture of a shining kitchen or a before/after pic. They both showcase the benefit of the product.
Show how to become a "better" person.Clothing is almost always advertised with the idea that you become something "better" with the advertised clothes. H&M is young, cool, and trendy. Armani is classy, expensive, and prestigious.
Engage with important values and tie them to your products.I can't remember a car ad that wouldn't be about values. The most common values in car ads nowadays are status, comfort, safety, and environmental thinking.
---
More helpful content on writing:
These are other links I curated during my journey to find writing guides and templates.  Honestly, these links are here just as much for me to come back to and refresh because they were helpful keeping me dialed into the craft, skill, art, and technique of good writing.
Trust me, these links are useful for your writing efforts.