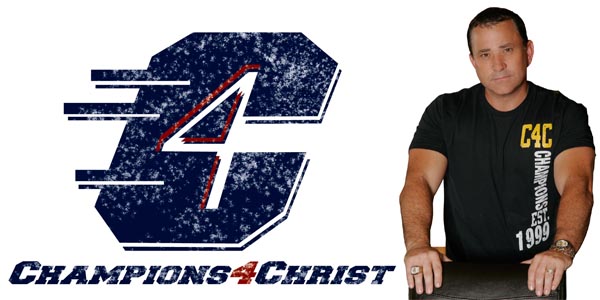 These are notes that I compiled while listening to Chip Brimm (Champions 4 Christ) while he was at our Church for a couple days. These notes include some of my takeaways and thoughts and it is possible that my notes are not accurate quotes of what he said verbatim, but I think you will see the power of his message.
Chip Brim at Community Christian Church – Orange Texas – March 4 – 5
We have a part to play in our faith. We have to abide in Him, we have certain conditions we must fulfill in our relationship with God. We can't pick and choose.
"I'm well on my way to becoming what I already am"
If you don't get excited by this statement, then you don't know who you are yet and you need to get the "in Him" book by Hagin and learn who you are "in Him" because He is who you are.
The Lord has been talking to me about "serious" and what it means to get serious for Him.
Paul told Timothy not to hire a candidate because he was a novice. Not just that he was at an experience level that we know as a novice, but that he was not SERIOUS. Paul said, don't hire him into the church (even if he is saved, gets it, and knows the scripture), he's a novice, he isn't serious.
We need serious. It's time to get serious with our relationship with God. Right now, if Paul was talking to Timothy about you, would Paul see you as serious? Would Paul tell Timothy to hire you?
We better get serious in who we are in Christ. It's time for the church and the body to operate in the power.
Colossians 3:1
New International Version (NIV)
Colossians 3
Living as Those Made Alive in Christ
1 Since, then, you have been raised with Christ, set your hearts on things above, where Christ is, seated at the right hand of God.
If you are serious about living with Christ and you like it, if you are serious, put your faith in action and see things from His perspective. We are the body of Christ. He is the head, we are the body – we are attached. This means we have a bond, a relationship, a connection.
God has given us the ability to act on His behalf.
"Champions don't focus on what they are going through, but what they're going through."
Jeremiah 29:11-13
New International Version (NIV)
11 For I know the plans I have for you," declares the LORD, "plans to prosper you and not to harm you, plans to give you hope and a future. 12 Then you will call on me and come and pray to me, and I will listen to you. 13 You will seek me and find me when you seek me with all your heart.
God's already planned out our future.
We are to discover God's plan, not decide it for ourselves. No, we need to get serious with Him and discover the plan He has for us – His plan!
God told Chip: I did not call you to entertain the church, I called you to train the church. To build champions for Christ.
How do we train? With repetition. Champs train so they can react – not think – just do it as a reaction. To react this way requires training, repetition and looking at the fine details. A batter cant "think" about hitting a 95 mph fast ball, he has to react. He has to have already trained his grip, elbows, head, hips, feet to react in harmony.
We need to train in our faith so we don't have to think about being Christ like in our actions, we can just react – bam – just like Christ with love, compassion, action.
We need to train in God's power.
We are anointed to do what we are called too. It's time to operate on a level that the world has never seen. (Chip gave story about Australia Medical Journal case where woman had unborn child with no brain and they wanted to abort, but she prayed and the child grew 10% brain, then 60% brain, then finally 100% brain all in a matter of weeks before being born).
We need to operate in the power with our anointing.
The anointing (of the Holy Ghost) is the power. This same power is there in us. The motive that you have to do things must be for the glory of God (not for ourselves).
Dumb Coach Theory: Who are you looking to recruit? Never "someone who likes to win" because we all like to win. I want to recruit "someone who hates to lose".
Are you frustrated, you're not winning like you should, you're giving it all you've got but still not seeing the results you expect? The whole time, Jesus and the Holy Ghost are right there ready to get in the game, but we have Him on the bench. You see, the Holy Ghost is guaranteed on our team – he can't leave the team, but we have to let Him in the game. We need to start doing the things that get Him in the game, shifting our momentum, changing the dynamics and putting things in our favor. I don't know about you all, but I'd rather have Michael Jordan in the game then sitting on the bench – wouldn't you? And what happens when Michael Jordan gets in the game? He tells you to not worry about it, don't shoot, just let me take care of it. And then he does. The Holy Ghost is like this.
Paul says these things grieve the Holy Spirit (and keep Him on the sidelines): Bitterness, wrath, anger, faithless talk, etc. These are the things that please the Holy Spirit (putting Him in the game): Be kind to one another, be tender hearted, have compassion, be forgiving, and love one another.
Without love you are nothing. One of the lawyers back in Jesus time commented on the more than 600 laws they had to memorize and recite 5 times a day. He questioned what law of the 600+ laws were most important.
Matthew 22:36-40
New International Version (NIV)
36 "Teacher, which is the greatest commandment in the Law?"
37 Jesus replied: "'Love the Lord your God with all your heart and with all your soul and with all your mind.'[a] 38 This is the first and greatest commandment. 39 And the second is like it: 'Love your neighbor as yourself.'[b] 40 All the Law and the Prophets hang on these two commandments."
Essentially Jesus said that above all, Love. Love with everything you possibly have to love with. Love God and love your neighbor, everything else hangs on love.
Everything – your plans, your healing, your faith – everything.
Chip was told by God to coach on love. And Chip knows that means more than just saying to love. If you have a batter that continues to strike out, you can't just yell at him to hit the ball – that would just be stupid. No, you have to break it down and look at all the moving parts, the intricacies of his swing, his hips, his head – all of it and see what's working and what isn't. The coach doesn't say to hit the ball, the coach says to lift your elbow or lock your hips, or keep your head down – the coach gets into the details and all the moving parts.
Once you begin to address the parts that are out of place, you immediately see improvement and performance increase and confidence goes up. Even if you have several areas that need help, focusing on one and fixing it is the way to do it. When you do this, it's like God is clapping at you going "yeah, attaboy, good job good job" because he sees your making improvements.
The amplified version gives a great break down of love so you can see all the moving parts:
1 Corinthians 13
1 If I speak in the tongues[a] of men or of angels, but do not have love, I am only a resounding gong or a clanging cymbal. 2 If I have the gift of prophecy and can fathom all mysteries and all knowledge, and if I have a faith that can move mountains, but do not have love, I am nothing. 3 If I give all I possess to the poor and give over my body to hardship that I may boast,[b] but do not have love, I gain nothing.
4 Love is patient, love is kind. It does not envy, it does not boast, it is not proud. 5 It does not dishonor others, it is not self-seeking, it is not easily angered, it keeps no record of wrongs. 6 Love does not delight in evil but rejoices with the truth. 7 It always protects, always trusts, always hopes, always perseveres.
8 Love never fails. But where there are prophecies, they will cease; where there are tongues, they will be stilled; where there is knowledge, it will pass away. 9 For we know in part and we prophesy in part, 10 but when completeness comes, what is in part disappears. 11 When I was a child, I talked like a child, I thought like a child, I reasoned like a child. When I became a man, I put the ways of childhood behind me. 12 For now we see only a reflection as in a mirror; then we shall see face to face. Now I know in part; then I shall know fully, even as I am fully known.
13 And now these three remain: faith, hope and love. But the greatest of these is love.
So, if we are working on our marriage, then we need to go past our love and operate on God's love. Your love is not enough until you have trained yourself to react with God's love. Chip shares a story about his mother, Billye, who was big on love and how she discovered she had an element out – like a batter, she found her hip, and began to work on fixing it. Her hip was "love is not touchy" and set out to fix her hip and illustrates this by the story with her husband (Chip's dad) and the chili she cooked not being like his mothers. And her reaction and focus on God's love, not her love, because if it were up to her she would have been upset and angry with him, but operating on God's love means you love without being touchy. This story transformed Chip and ultimately his mom and dad and demonstrated how we have to focus on our faith and work on it and operate in God's love.
What happens when we go to heaven and we learn that we made it, but our neighbor didn't? What happens when we discovered that they did not get salvation because they didn't see a difference in you as a Christian versus others. And sense they didn't see what was special about being a Christian, they didn't seek salvation, our Father, and they perished. You were there, you could have lived a strong Christian life that would have demonstrated what it is to operate in God's power, but you didn't. And they didn't make it to heaven. This is what it is like for many of us – we are saved, but we don't live it and operate in the power to bring others to it.
Matthew 10:32
New International Version (NIV)
32 "Whoever acknowledges me before others, I will also acknowledge before my Father in heaven.
We need to live in the power and see others come to our Father.
Philippians 4:13-14
New International Version (NIV)
13 I can do all this through him who gives me strength.
14 Yet it was good of you to share in my troubles.
Philippians 4:13-14
Amplified Bible (AMP)
13I have strength for all things in Christ Who empowers me [I am ready for anything and equal to anything through Him Who [a]infuses inner strength into me; I am [b]self-sufficient in Christ's sufficiency].
14But it was right and commendable and noble of you to contribute for my needs and to share my difficulties with me.
This is not a needs based message. It will abound toward you. He wants to give us blessings and to protect us but:
1) We must be doers of His word
2) We must be followers of the Holy Spirit
We would not just know who sat at the right hand of our Father, but operate from there. We are doers of the word. You must not just know the plant but do the plan.
Exodus 12:7
New International Version (NIV)
7 Then they are to take some of the blood and put it on the sides and tops of the doorframes of the houses where they eat the lambs.
God gave them a plan, His plan, and if they did not do His plan, they would die. Knowing the plan is not enough, we must act on it.
Watchfulness is the price of victory.
John 10:10
New International Version (NIV)
10 The thief comes only to steal and kill and destroy; I have come that they may have life, and have it to the full.
Christ spells it out showing what the enemy is about, what he does, and what his intentions are. He also shows what the purpose of Jesus is – to give life.
Ephesians 2:2
New International Version (NIV)
2 in which you used to live when you followed the ways of this world and of the ruler of the kingdom of the air, the spirit who is now at work in those who are disobedient.
Satan is not omnipotent and can not be everywhere all the time. He has lower level demons to do things. Satan, however, was an anointed angel and knows the power of the anointing and wants to fight the anointing. Christ means the anointed one and Satan is the anti-christ, the one against the anointing because he knows how powerful the anointing is. And if we all have access to the anointing, Satan knows we are too powerful for him and he wants to prevent us from our anointing and from operating in the power. (not in Chips lesson, but good info on Satan http://www.angelfire.com/ill/hebrewisrael/Lessons/lucifer.html )
We must exercise our authority of His believing and obedient people. We need to plead the blood of Jesus and use our authority over the enemy. It is time for the church to operate at a level the world is not familiar with. We the body – the church – including business owners, writers, teachers, singers, all of us need to operate in the power because we can get to places for the Kingdom where Pastors cant!
Isaiah 10:27
New King James Version (NKJV)
27 It shall come to pass in that day
That his burden will be taken away from your shoulder,
And his yoke from your neck,
And the yoke will be destroyed because of the anointing oil.
Jesus was passionate about scriptures in the Old Testament. Jesus was the anointing to break the yoke.
We are the body of Christ (the anointing).
Chip had a 6 month fight with Oral Roberts University and God told him after it was over that it didn't have to be that hard or take that long. It could have been a sweat-less victory. It wasn't though, because they didn't stay plugged into the power. Instead they kept plugging in and out of the power and it took longer.
Psalm 81:8-16
New King James Version (NKJV)
8 "Hear, O My people, and I will admonish you!
O Israel, if you will listen to Me!
9 There shall be no foreign god among you;
Nor shall you worship any foreign god.
10 I am the Lord your God,
Who brought you out of the land of Egypt;
Open your mouth wide, and I will fill it.
11 "But My people would not heed My voice,
And Israel would have none of Me.
12 So I gave them over to their own stubborn heart,
To walk in their own counsels.
13 "Oh, that My people would listen to Me,
That Israel would walk in My ways!
14 I would soon subdue their enemies,
And turn My hand against their adversaries.
15 The haters of the Lord would pretend submission to Him,
But their fate would endure forever.
16 He would have fed them also with the finest of wheat;
And with honey from the rock I would have satisfied you."
Luke 18:1
New King James Version (NKJV)
The Parable of the Persistent Widow
18 Then He spoke a parable to them, that men always ought to pray and not lose heart,
Luke 18:8
New King James Version (NKJV)
8 I tell you that He will avenge them speedily. Nevertheless, when the Son of Man comes, will He really find faith on the earth?"
2 Peter 3:9
New King James Version (NKJV)
9 The Lord is not slack concerning His promise, as some count slackness, but is longsuffering toward us,[a] not willing that any should perish but that all should come to repentance.
2 Peter 3:9
New International Version (NIV)
9 The Lord is not slow in keeping his promise, as some understand slowness. Instead he is patient with you, not wanting anyone to perish, but everyone to come to repentance.
If you keep you motive right (focused on the Glory or God) then you'll be blessed, your family will be blessed, your ministry will be blessed and your calling and your life will be blessed.
Do what glorifies God at all times.
I can do all things through Him who strengthens me. -Philippians 4:13 And looking at them Jesus said to them, "With people this is impossible, but with God all things are possible." -Matthew 19:26
1 Corinthians 10:31
New International Version (NIV)
31 So whether you eat or drink or whatever you do, do it all for the glory of God.
Romans 15:6
New International Version (NIV)
6 so that with one mind and one voice you may glorify the God and Father of our Lord Jesus Christ.
Your body is a temple for the Holy Ghost. You cant drink and glorify God. You cant hate and glorify God.
Most Christians are missing their power because we are plugging and unplugging over and over by we can and should stay plugged in. Motives need to be for the Glory of God.
Power produces results.
Ephesians 3:20
New International Version (NIV)
20 Now to him who is able to do immeasurably more than all we ask or imagine, according to his power that is at work within us,
We can have sweat-less victories that come speedily when we are plugged into the power.
2 Timothy 3:1-7
New International Version (NIV)
2 Timothy 3
1 But mark this: There will be terrible times in the last days. 2 People will be lovers of themselves, lovers of money, boastful, proud, abusive, disobedient to their parents, ungrateful, unholy, 3 without love, unforgiving, slanderous, without self-control, brutal, not lovers of the good, 4 treacherous, rash, conceited, lovers of pleasure rather than lovers of God— 5 having a form of godliness but denying its power. Have nothing to do with such people.
6 They are the kind who worm their way into homes and gain control over gullible women, who are loaded down with sins and are swayed by all kinds of evil desires, 7 always learning but never able to come to a knowledge of the truth.
In the endtimes, there will be many many people who have a form of godliness but deny the power. These people can be Christians not just unbelievers!
Chip began to do spiritual coaching with a teen – Rotnie Clarke – and taught him to do everything for the glory of God. Rotnie began to use the phrase G3 – Give God Glory. Rotnie – of average height and stature went on to be a huge success and received more than 2000 scholarship offers. Coaches said there was something about him they were not familiar with, but had to have.
Another athlete mentioned seeing T.D. Jakes talk about being tauth to do what you are anointed to do.
Mark 11:23
New King James Version (NKJV)
23 For assuredly, I say to you, whoever says to this mountain, 'Be removed and be cast into the sea,' and does not doubt in his heart, but believes that those things he says will be done, he will have whatever he says.
"I'm anointed" and "I believe it in my heart". If you believe it and speak it and apply it "and do it all for the glory of God" then you're plugged into the power.
Don't worry about how, just do what you know to do. Be a doer. If you have the right motivation for the Glory of God, doing it is all it takes.
The Holy Ghost is the anointing. God is not a respecter of persons but He is a respecter of faith. Do the work for the glory of God. Your resume doesn't matter, your heart does. Stop talking about your talent.
Luke 4:14
Amplified Bible (AMP)
14Then Jesus went back full of and under the power of the [Holy] Spirit into Galilee, and the fame of Him spread through the whole region round about.
Remember, God knows your heart and your motivation. He did not seek fame but it was a result of his motivation. Don't seek fame, seek God.
We are the body of Christ, Christ is the anointing. The anointed is His power over your own power. Whatever you did naturally with anointing will be supernatural.
Acts 10:38
New International Version (NIV)
38 how God anointed Jesus of Nazareth with the Holy Spirit and power, and how he went around doing good and healing all who were under the power of the devil, because God was with him.
Jesus, too, had to be anointed in order to plug into the power. Everywhere you see "Holy Ghost" in the bible you can translate to "the anointing" therefor everywhere you see the Holy Ghost, you'll see the power.
Acts 1:8
New International Version (NIV)
8 But you will receive power when the Holy Spirit comes on you; and you will be my witnesses in Jerusalem, and in all Judea and Samaria, and to the ends of the earth."
If you look into the Old Testament, you'll see a lot of times the Holy Spirit came on someone like Elijah outrunning a horse for more than 20 miles o Sampson killing 1000 people with a donkey jaw bone.
You gotta get plugged in!
The anointing is the power!
The Holy Spirit is the anointing!
The holy spirit abides in us!
1 John 2:20-27
New International Version (NIV)
20 But you have an anointing from the Holy One, and all of you know the truth.[a] 21 I do not write to you because you do not know the truth, but because you do know it and because no lie comes from the truth. 22 Who is the liar? It is whoever denies that Jesus is the Christ. Such a person is the antichrist—denying the Father and the Son. 23 No one who denies the Son has the Father; whoever acknowledges the Son has the Father also.
24 As for you, see that what you have heard from the beginning remains in you. If it does, you also will remain in the Son and in the Father. 25 And this is what he promised us—eternal life.
26 I am writing these things to you about those who are trying to lead you astray. 27 As for you, the anointing you received from him remains in you, and you do not need anyone to teach you. But as his anointing teaches you about all things and as that anointing is real, not counterfeit—just as it has taught you, remain in him.
It's not about men. It's about the anointing. When the men become anointed, they are plugged in – seek the anointing!
You have to plug in and speak it. "even God has to speak it" for the Holy Spirit to move. Don't seek your race, seek His face! We have to know God, the word and a flow of the Holy Spirit.
Colossians 3:1-2
New International Version (NIV)
Colossians 3
Living as Those Made Alive in Christ
1 Since, then, you have been raised with Christ, set your hearts on things above, where Christ is, seated at the right hand of God. 2 Set your minds on things above, not on earthly things.
If you're serious – I mean serious about your faith, you have to act like it. We gotta get serious like we want Him more than anything else – gotta play our part. Be doers of His word, not just know it, but do it.
Rain doesn't fall, its pulled to ground by gravity. We have to pull God to us.
Psalm 37:23
New International Version (NIV)
23 The LORD makes firm the steps
of the one who delights in him;
Psalm 37:23
Amplified Bible (AMP)
23The steps of a [good] man are directed and established by the Lord when He delights in his way [and He busies Himself with his every step].
There are 4 types of man. A regular man, a Christian/believer, a champion (the one who knows his God give plan) – other man?
Steps of a good man – a grievor man (Hebrew). Steps of a Champion who is strong in Him. Not just a believer but a champion!
"His way" is God's plan our Derek (Hebrew). We have to get control over ourselves so we can be grievor on Derek.
Proverbs 20:24
Amplified Bible (AMP)
24Man's steps are ordered by the Lord. How then can a man understand his way?
The 1st man here is the grievor (champion the one in control), the 2nd man is adaom (Hebrew – the general man) and "way" is Derek (Gods plan).
1 Thessalonians 5:18-19
New International Version (NIV)
18 give thanks in all circumstances; for this is God's will for you in Christ Jesus.
19 Do not quench the Spirit.
Be thankful, don't focus on the negative you're quenching the Holy Spirit – gotta get the negative under control no matter the situation. Don't let your emotions over run you either because God does not respond to negative or out of control emotions
Proverbs 25:28
Amplified Bible (AMP)
28He who has no rule over his own spirit is like a city that is broken down and without walls.
God is not moved by needs, He's moved by Faith. Get it under control and focus on Him. What you are going too not what you are going through. Encourage yourself in the Holy Spirit. Get out of despair and have Faith in Gods plan. When you cry and blame God for death or disaster and cast doubt you hold God back, but when you have Faith you can get God involved. Like the story of David laying down crying.
Get control of your study time, finances, marriage, love, emotions.
Colossians 3:15-17
New International Version (NIV)
15 Let the peace of Christ rule in your hearts, since as members of one body you were called to peace. And be thankful. 16 Let the message of Christ dwell among you richly as you teach and admonish one another with all wisdom through psalms, hymns, and songs from the Spirit, singing to God with gratitude in your hearts. 17 And whatever you do, whether in word or deed, do it all in the name of the Lord Jesus, giving thanks to God the Father through him.